6 Ways to Deal with Rigid Black and White Thinkers Inspired by Mediation for Divorce Clients
Do you ever feel like banging your head against the wall when dealing with rigid and inflexible people?
Folks who get stuck in only one way of thinking? Who have trouble seeing the forest through the trees?
Ever find yourself in a conversation that seems to be going nowhere because the other person doesn't seem to "get it?"
And as the discussion progresses they become more and more rigid?
It can be so frustrating!
The reality is some folks are wired to be more flexible than others.
By flexible I don't mean yoga-style flexibility!
I mean flexible thinking.
Having the ability to think and live in the "grey," roll with the punches, and think hypothetically.
One Such Person I Met in a Mediation for Divorce
Some months ago I had a divorce mediation client who fit this profile.
She and her husband often got stuck in their divorce negotiations. They got stuck in their personality differences. They got stuck in resentment towards one another.
They even got stuck on the "facts!"
One standard technique for a mediation for divorce client who gets stuck involves asking hypothetical questions. Such questions guide the client to consider alternative viewpoints, new options, and a different future.
So, I asked questions like:
What if you were able to find a way to talk to him without arguing? What would that look like?
What would need to change to be able to be at a social event with him?
Pretend for a moment that he let you take the house, how would that affect the other issues?
She argued every hypothetical question!
In fact, I quickly learned that I was making things worse by asking such questions.
I Learned That the Antidote to Inflexibility Is…
My divorce mediation client was a concrete thinker and my flexible-thinking style was not working for her.
To be an effective provider of mediation for divorce I had to adjust – be flexible.
So, I  made a guideline for myself (ironically): no more hypotheticals for her.
Instead, I framed issues in the here and now.
I focused on things she could do differently, rather than on what he may or may not do differently.
I worked with her style, not against it!
The mediation began to move forward.
As they made more progress, and she began to experience a different reality, she slowly was able to think differently about their future.
But I still did not ask "what if" questions!
Blessed Be The Flexible…
I recently came across a bumper sticker while on vacation with my wife that put it all in perspective for me: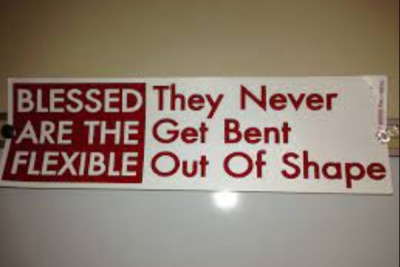 Or conversely, the inflexible get easily bent out of shape.
Understanding someone's level of cognitive flexibility can help avoid tons of needless conflict.
Six Strategies to Help You Resolve Conflict with an Inflexible Style
Avoid sarcasm: Concrete thinkers sometimes mistake sarcastic comments as literal comments. This can unintentionally lead to misunderstandings and hurt feelings.
Deal with the current reality: Avoid talking about things that don't yet exist. Inflexible thinkers have difficulty envisioning possibilities that "could" or "might" happen.
Plan ahead for change: If it is predictable that routines or original plans might change work together to develop contingency plans.
Explain things specifically and clearly: Sometimes inflexible thinkers interpret information inaccurately, do not handle ambiguity well, over-generalize, or personalize. Proactively clarify information, and check for understanding, to prevent this from happening.
Stay flexible: The best way to make an inflexible thinker more inflexible is by being inflexible yourself! Rather than argue about their inflexibility, maintain calm, respectful and thoughtful communication.
Do you tend to be inflexible in your thinking?
Do you work or live with someone who is an inflexible thinker?
What additional strategies can you offer to help improve communication?
Please share by commenting below — I'd love to hear from you!
LINKEDIN USERS:  LinkedIn does not have the capability for your comments on LinkedIn groups to appear on the original blog post. If you are commenting on a mediation for divorce LinkedIn group would you mind copying the comment directly on to the blog so my other readers can benefit from your ideas and reactions? Thank you, thank you, thank you!!
https://benstich.com/wp-content/uploads/2014/09/rainbow-colored-slinky-toy.jpg
900
1500
Ben Stich
https://benstich.com/wp-content/uploads/2022/05/Ben-Stich-Logo.png
Ben Stich
2014-09-05 20:41:16
2023-01-31 11:03:16
6 Ways to Deal with Rigid Black and White Thinkers Inspired by Mediation for Divorce Clients